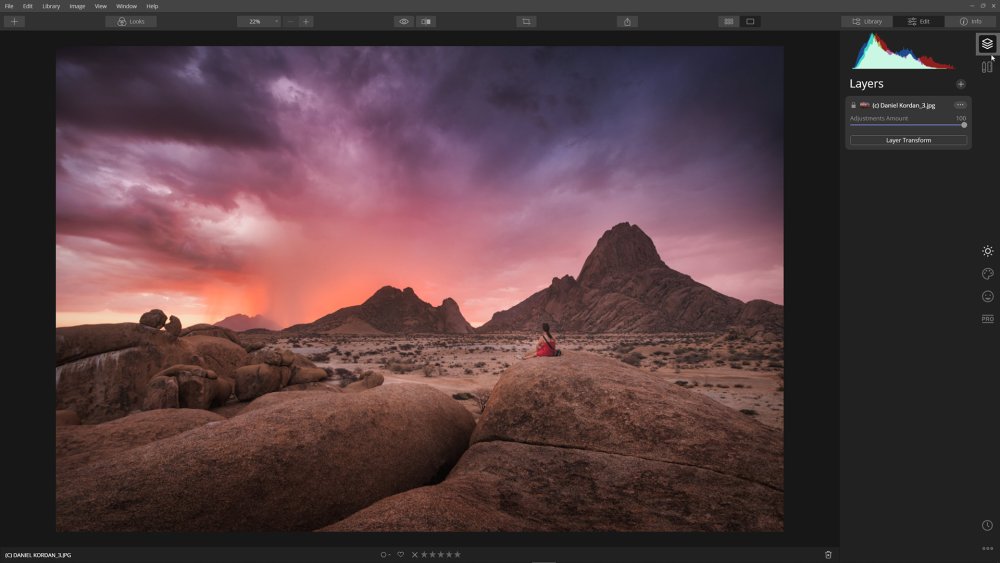 If you'd like to combine multiple elements together in a project, be sure to check out layers. You can access controls for layers by clicking the Layers button in the Edit sidebar.
Each layer can contain discrete elements of your project. Layers can contain photos, textures, core adjustments. There are lots of ways to create and manage layers, but it all comes back to having an organized design. Be sure to click the action menu of each layer and choose the rename option to give it a clear, descriptive name to make your workflow easier.
The use of masks allows you to hide or obscure parts of an image. Masks are useful so you can combine the contents or results of one layer with your primary image. Layer Masks allow you to use powerful painting tools to control their results. The more you work on combining multiple images, the more you'll use masks.
Luminar offers 4 types of masks:
Brush. The Brush is one of the easiest ways to mask an image. You can use brush strokes to add or subtract from the mask.
Radial Mask. The use of a Radial Gradient Mask is a quick, easy way to highlight an area of your photo with an elliptical shape.
Gradient Mask. The Gradient Mask Tool is useful for creating a gradual blend between two states or layers.
Luminosity. A Luminosity Mask is a fast and easy way to create a new mask based on the brightness of image pixels.