Luminar Neo constantly backs up its database as you work with it. This ensures your latest edits are stored. However, you may want to manually back up a Catalog in case your hard drive malfunctions. We suggest backing up your Catalog to an external drive or cloud storage.
Backing Up a Luminar Neo Catalog on Windows and macOS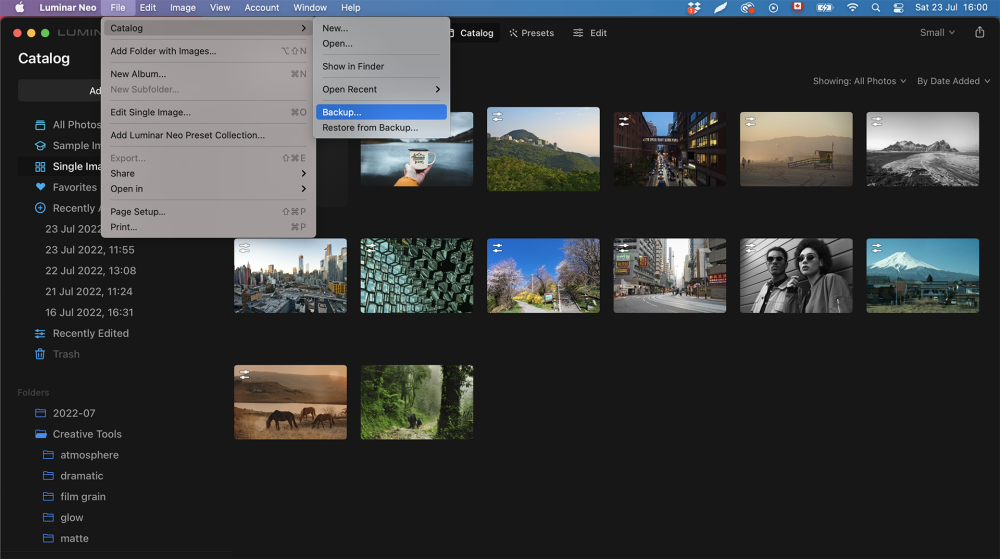 With Luminar Neo open, make edits with the Catalog you want to back up.
Choose File > Catalog > *Show in Explorer (Windows) / Show in Finder (macOS). This reveals the Catalog file nested inside a folder.
Go up one level in the folder structure and back up that entire folder for the complete backup.
To restore a backup, just copy it to your machine and choose File > Catalog > Open to select the Catalog Folder you backed up.
On macOS, you can also use the Backup command to store a backup Catalog:
Choose File > Catalog > Backup
Luminar Neo will open a Finder window that lets you choose where you want to save your backup file.
To restore a backup file, choose File > Catalog > Restore from Backup.
You can back up your photos by exporting them. Saving them as JPEG images create relatively small files that are easy to manage. However, when exporting JPEG files, your images will lose quality due to compression. Saving your photos in the TIFF format creates archival-quality files that will be much larger than JPEGs.