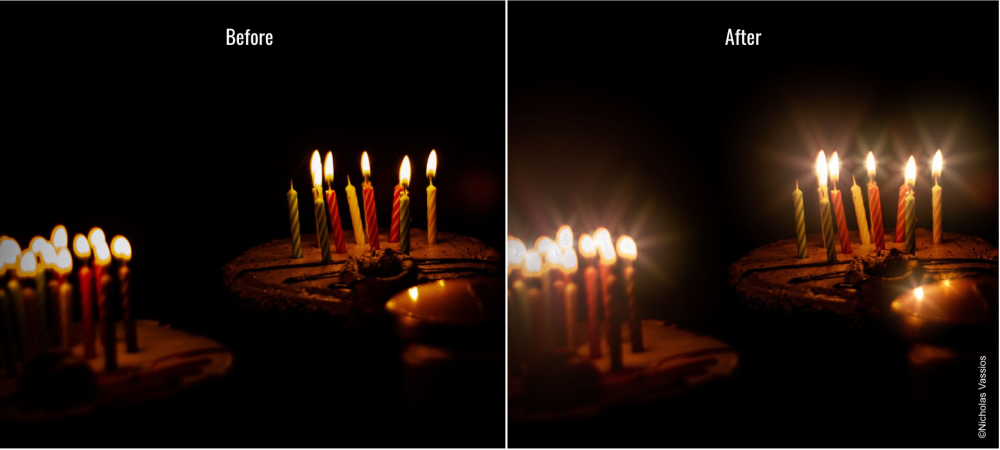 This Extension allows you to manipulate multiple light sources in your photo. It works best with artificial light sources, such as light bulbs, street lights, decoration lights (like on Christmas trees), and so on. You can control these light sources to add a little magic touch to your pictures — shining, glowing light beams. The neural network in the core of Magic LightAI Extension analyzes the photo and looks for any points emitting light and gives you the power to make this light more intense, add beams, and glow. You could also use masking tools to work with specific lights.
Intensity — how intensive the whole effect is
Size — length of the beam
Beam width – width of the beam
Glow — applied to glow behind the beams
Clearness — how clear the edges of the beams are
Number of beams — number of beams
Holiday and festive photos — small decorative lights (like the ones on Christmas trees) are perfect for this Extension. When applied correctly, it adds magical glowing, making the whole picture more enchanting.
Street photography (after hours) — you can create visual accents with street lamps in the night city.
Indoor photos — works with light bulbs (Edison type is the best).
Cars, bikes, and other transport — you can add rays to the car's headlights, making the photo more dramatic.
____
Location in Neo: Edit view -> Extensions section

TIP
If you find yourself in a situation without a direct light source but still want to utilize Magic Light, there's a helpful workaround you can follow. Let's go through it step by step, taking the example of adding a light source to road lamps.
1. Begin by opening the Developer Tools, proceed to Masking, and select the Brush.
2. After you've marked all the desired light sources, return to Adjustments. Here, you can use Exposure to highlight the areas you want to illuminate. If necessary, you can also use Highlights and Smart Contrast.
3. Once you've completed these steps, it's time to return to Magic Light. The extension will now detect the marked light sources, allowing you to make any necessary adjustments.
This method should help you achieve the desired lighting effect even when there isn't a direct light source available.